Home
Richard Patterson: Only Fans | Timothy Taylor
Richard Patterson was a YBA, part of the scandalous 1990s 'Sensation' generation. But, like his peers Gillian Wearing and Gavin Turk, he's matured into a painter of sensitivity and skill. Proof of this view comes in 'Only Fans', a show of small-format works using what the press release describes as a "carnal palette", which closed this week at Timothy Taylor.
All 13 paintings in the exhibition are dreamy swirls of flesh-toned roses and ochres, on luxurious-looking linen canvas. They're somehow deeply textured and flat at the same time, an optical illusion that comes from Patterson using a wet-on-wet technique: painting a layer of different-coloured oil paint while the previous layer is still wet.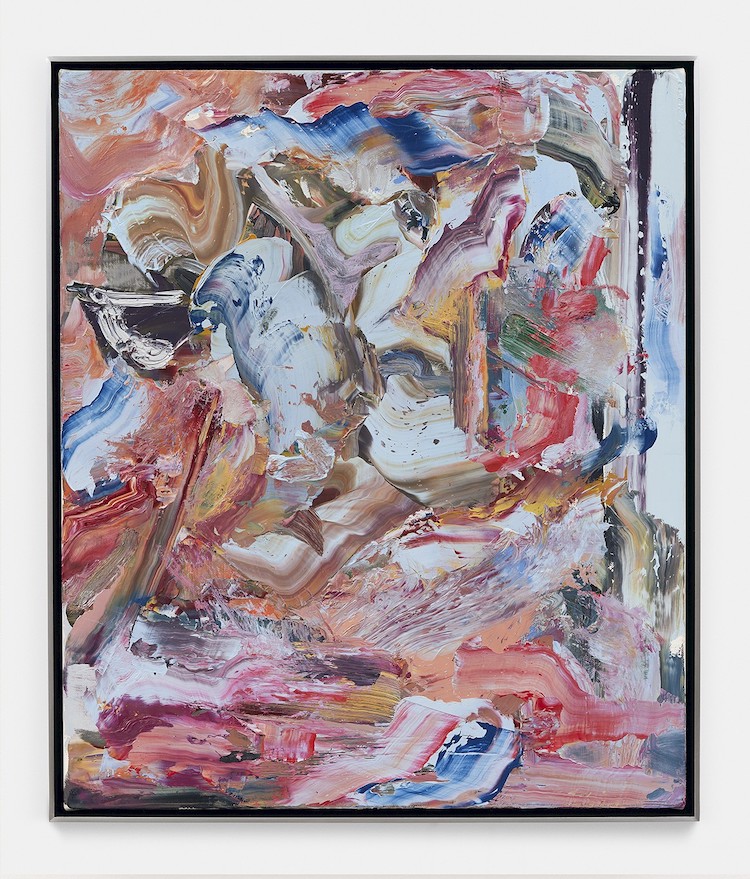 Step back, and in many of the works you can just about make out the shadowy form of a lounging woman - sometimes her face, sometimes her curvaceous butt. 'Delaunay' (2022), pictured above, is a good example. The exhibition's title, the name of a pay-for-porn website, helps us make sense of what we're seeing: naked flesh, mediated by layers of digital-looking distortion. An illusion of intimacy.
Tricksy representations of online porn are employed quite a bit by artists these days - I'm thinking in particular of a Wade Guyton show I saw a couple of years back, that made sly use of inkjet prints from XVideos (OnlyFans for the hard-up).
But while Guyton went for the shock factor, there's nothing explicit about Patterson's work, really. In fact, it's their withholding nature that makes these small, lush, fleshy paintings so memorable.
Richard Patterson: Only Fans is at Timothy Taylor (London). 11 March - 15 April 2023